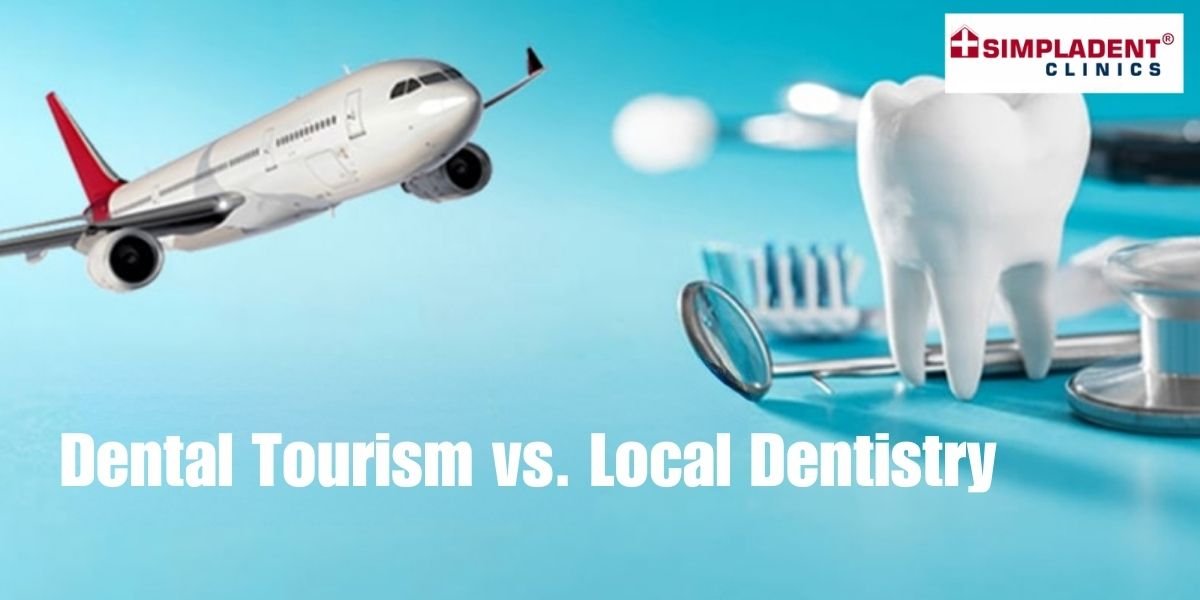 Choosing the right dental care is a crucial decision that affects your oral health and overall well-being. For many people, this decision comes down to a choice between local dentistry and dental tourism. Dental tourism, a growing trend in healthcare, offers the opportunity to access high-quality dental treatments abroad, often at a fraction of the cost. Simpladent, a trusted name in dental tourism, provides exceptional dental care across multiple countries as patients are coming to Simpladents from all over the globe.. In this article, we will compare the advantages of choosing dental tourism over local dental services, with a focus on the benefits offered by Simpladent.
Dental Tourism vs. Local Dentistry
1. Cost Savings: One of the primary reasons people opt for dental tourism is the significant cost savings.
Dental procedures in some countries, especially in developed nations, can be prohibitively expensive. Dental tourism, on the other hand, offers access to the same quality of care at a much lower cost. Simpladent, with its network of specialized dental clinics, provides cost-effective dental solutions that are often a fraction of the price of
equivalent treatments in many Western countries.
2. Quality of Care: When it comes to dental care, quality is paramount. Simpladent ensures that patients receive top-notch dental treatments from experienced and highly skilled dental professionals. The clinics adhere to international dental standards and guidelines, guaranteeing the highest level of care. Patients can have confidence in the expertise of Simpladent's dental teams and the modern, state-of-the-art facilities.
3. Comprehensive Solutions: Simpladent offers a wide range of dental treatments to address various dental needs. Whether you require single tooth implants, full-mouth restorations, or other specialized procedures, Simpladent has the expertise and technology to provide comprehensive solutions tailored to your specific requirements.
4. Ease of Access: With clinics located in the heart of India Delhi-NCR, patients can easily visit from anywhere in the world. Specializing in immediate loading Implants, patients do not have to wait longer as in most of the cases treatment is done in 48 hours. Simpladent provides boarding, lodging and tourism packages if any of our guest demand so.
5. Online Consultations: Simpladent embraces technology by offering online consultations, allowing patients to
discuss their dental concerns and treatment plans with dental professionals remotely. This eliminates the need for initial travel for consultations and enables patients to make informed decisions about their dental care.
6. Comprehensive Dental Tourism Packages: Simpladent understands the importance of a seamless patient experience. That's why the clinics offer all-inclusive dental tourism packages that often encompass accommodation, transportation, and post-operative care. These packages provide patients with a stress-free and convenient journey, ensuring that all aspects of their dental tourism experience are taken care of.
7. Safety Measures and Infection Control: In light of global health concerns, safety and infection control have become critical considerations for dental care. Simpladent clinics have stringent safety protocols in place to provide patients with peace of mind. These measures include social distancing, mask-wearing, frequent sanitization, and patient screenings, creating a secure environment for dental treatments.
8. Language Assistance: Effective communication between patients and dental professionals is essential for a
successful dental experience. Simpladent clinics often have staff who speak multiple languages, including English, to ensure clear and precise communication. This eliminates language barriers and allows patients to express their concerns and needs effectively.
9. Emergency Protocols: While complications during dental treatments are rare, Simpladent clinics have well
defined emergency protocols in place. These protocols include access to medical facilities and specialists in case of unexpected issues during treatment, ensuring patient safety at all times.
10. Transparency in Pricing: Transparency in pricing is another advantage of dental tourism. Simpladent provides clear and detailed cost estimates, so patients are fully aware of the financial aspects of their dental journey. There are no hidden fees or surprises, allowing patients to plan their budget effectively.
11. Cultural and Wellness Experiences: Dental tourism is not just about dental care; it's also an opportunity to explore new cultures and embrace wellness practices. Simpladent's clinic locations in attractive tourist destinations allow patients to enjoy cultural immersion, savor local cuisines, explore historical landmarks, and even participate in yoga and wellness retreats.
12. Holistic Approach to Dental Care: Simpladent's approach to dental care is holistic, considering not only the dental treatments but also the overall well-being of patients. The combination of dental excellence and cultural experiences ensures that patients return home not only with a healthier smile but also with cherished memories of their dental tourism adventure.
Conclusion
The choice between dental tourism and local dentistry ultimately depends on individual preferences and priorities. However, it's essential to consider the advantages offered by dental tourism, particularly when choosing a reputable provider like Simpladent.
Simpladent's commitment to cost-effective, high-quality care, ease of access, safety measures, and comprehensive dental tourism packages makes it a compelling choice for patients seeking dental treatments abroad. By choosing Simpladent, patients can embark on a dental tourism journey that combines dental excellence with cultural
exploration, all while ensuring their safety and well-being.
So, whether you're seeking affordable dental solutions, a comprehensive dental tourism experience, or a blend of dental care and cultural enrichment, Simpladent offers a compelling choice that allows you to make an informed decision for your dental and overall well-being.
Keep yourself updated following our Social Page for the latest deals and information.