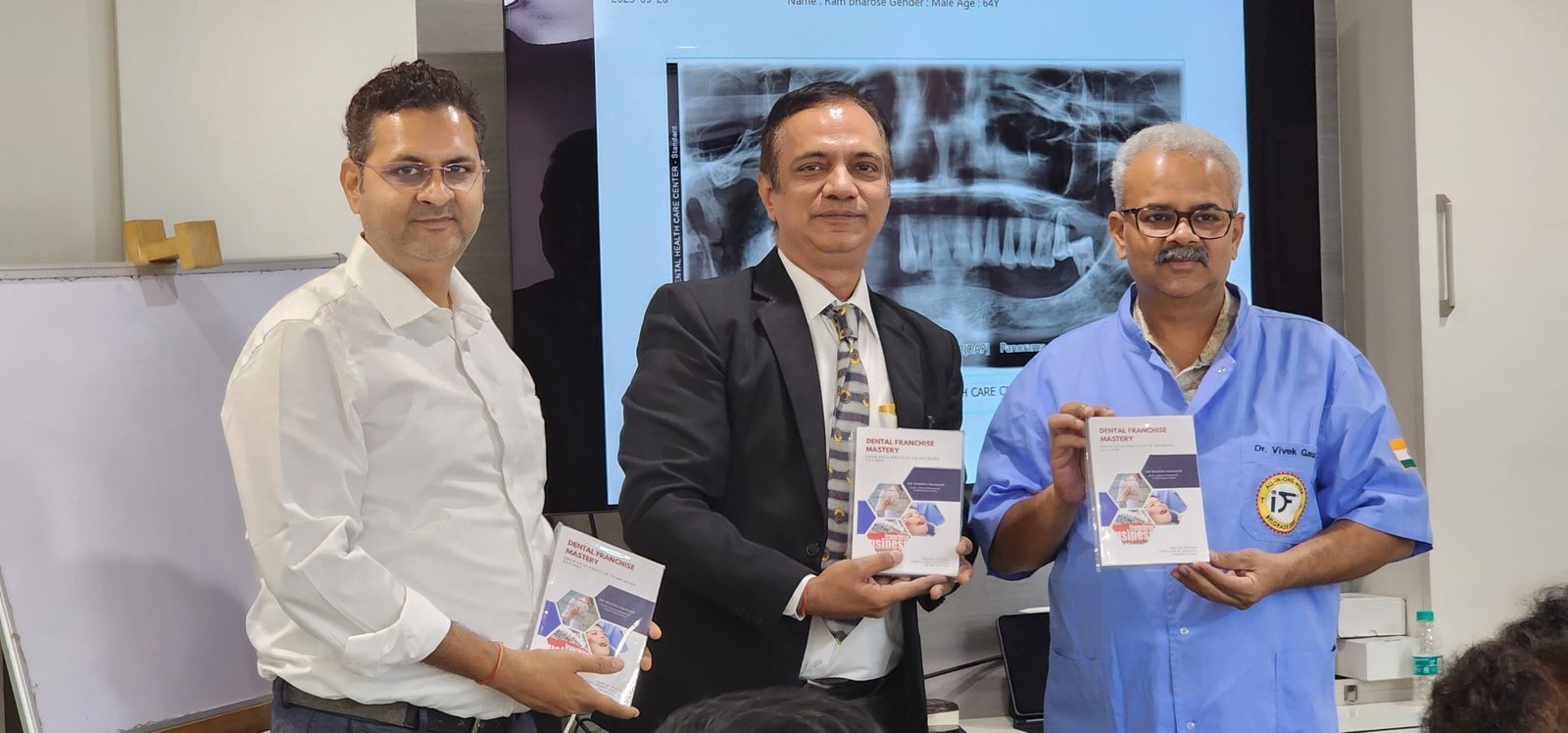 In a remarkable moment in the world of dentistry, esteemed author Dr. Neeraj Kaushik – Advisor, Simpladent , unveiled his groundbreaking book, "Dental Franchise Mastery: From Solo Practice to Network Success." The book launch event was graced by renowned Implantologist, Dr. Vivek Gaur, and witnessed the presence of Mr. Anuj Gaur, CEO of Simpladent, who shared their insights on the importance of this invaluable resource for the dental community. Dr Vivek Gaur released the book. In his message, he stressed on the need for collaboration and partnerships among dental clinics for better patient care and sharing clinical and other knowledge to counter the future challenges.
Dr. Neeraj Kaushik's latest book, "Dental Franchise Mastery," is a comprehensive guide that provides a holistic perspective on the intricate world of dental including implant franchising. It delves into every aspect of this growing sector, offering valuable insights, strategies, and knowledge to both dental professionals and entrepreneurs interested in expanding their horizons within the dental industry.
At the book launch event, Dr. Vivek Gaur, a world-renowned authority on Corticobasal Immediate Loading Dental Implants, also emphasized the significance of Dr. Kaushik's work. He stated, "Dr. Kaushik has distilled years of experience and expertise into a comprehensive resource that will serve as a guide for those looking to navigate the complex landscape of dental implant franchising successfully. His book is a valuable contribution to our field."
Mr. Anuj Gaur, the CEO of Simpladent, a prominent name in the dental industry, lauded Dr. Kaushik's dedication to shedding light on the intricacies of dental franchising. "The dental implant industry is ever-evolving, and 'Dental Franchise Mastery' equips practitioners with the knowledge and tools needed to adapt, grow, and succeed," he said.
Dental Franchise Mastery: From Solo Practice to Network Success" covers a wide spectrum of topics related to dental franchising including clinical, marketing, legal, financial and other aspects for success of dental franchising.
This comprehensive guide is set to become an indispensable resource for dental professionals, aspiring entrepreneurs, and anyone interested in making a significant impact on the world of dental implant franchising. www.drnkaushik.in0
Keep yourself updated following our Social Page for the latest deals and information.